H. Moser & Cie.
Case study
Luxury
Content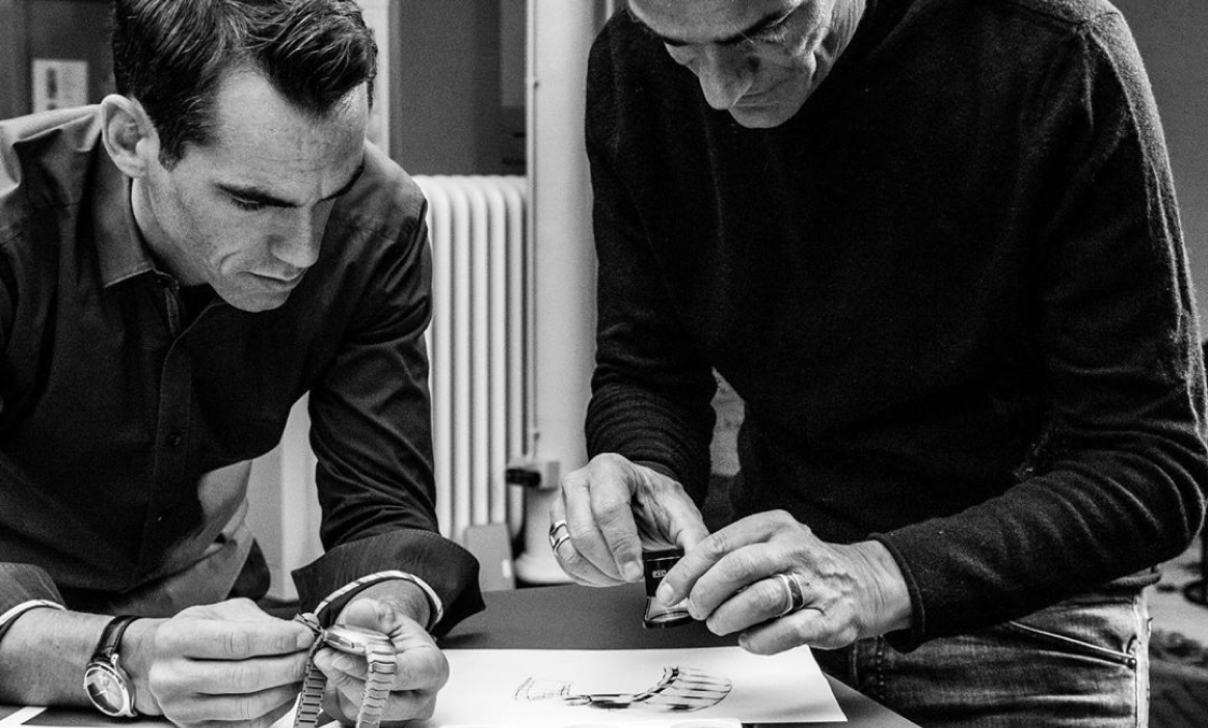 H. Moser & Cie.
Disrupting the world of luxury watchmaking
H. Moser & Cie. is a luxury watchmaking brand that plays by its own rules – and that's why we love it. A family business founded in 1828 and still family-run to this very day, Moser has a fascinating story. Today, their watches are particularly admired by connaisseurs: Among collectors and watchmakers, Moser is considered a rare gem. For CosaVostra, it was a pleasure to start from such rich source material.
H. Moser & Cie.
In terms of content, or more broadly in terms of branding, the challenge posed by Moser was to find the right balance between irreverence, a hallmark of the brand, and seriousness, which has always defined the quality of their watches. We were charged with accompanying the brand towards a new level of maturity: keeping them amongst the luxury  watchmaking big leagues, where they belong, but without betraying their rebellious spirit. All that while staying in-line with their signature: "Very Rare."
A second challenge was to broaden their classic target audience of fine watch amateurs to a younger, less expert audience, and to do so while keeping Moser's existing community as engaged as possible.
Finally, we had to be particularly clever and efficient to be able to accomplish a lot on a shoestring budget, and we were responsible only for part of their digital ecosystem.
Solutions
More than a blog, a world
Who said that luxury couldn't be irreverent and incendiary? We created Pioneer Chronicles, the Moser blog for intelligent content with a casual tone. The idea was to create a less corporate version, a B-side, of their main site (which we hadn't built), a space for the brand to bring to life its values of excellence, independence, confidence and above all, audacity. The blog is 100% SEO-optimized, easy to update on WordPress, and it feeds into a virtuous cycle in the Moser ecosystem by generating traffic to the site, as well as increasing newsletter sign-ups and social media engagement.
On the blog, we imagined different rubrics with varying formats: Moser Maths to seduce watch geeks, Roger That for those who love being told a story in the form of a high-profile interview, Watchmakers for those curious about what happens behind the scenes and about what makes horologists tick, and Ask Henri for everything you wanted to know about the Moser epic, in an entertaining, non yawn-inducing way.
Results
10k+ newsletter subscribers, with an average open rate of 35%.
Since January 2018, 99k users, 112k sessions, and more than 420k page views.
10k+
newsletter subscribers
Solutions
Besides working on the blog, we mobilised strong commercial opportunities for Moser, notably the 2019 SIHH in Geneva. In the leadup, we co-developed a unique watch: the Moser Nature Watch that pays homage to Mother Nature. We filmed the whole creation process, with Edouard Meylan, the charismatic CEO of Moser in the lead role, and we were able to optimise that content to build a real buzz around the new watch.
Results
Considerable press coverage: H. Moser & Cie. was the 3rd most tagged brand during the SIHH in Geneva.
Solutions
For the launch of an uncommon product, an uncommon route
Example 1: The Pioneer Tour
For the launch of the Pioneer Centre Seconds in Funky Blue Black – yes, please! – we dreamed up The Pioneer Tour: Two models of the watch were sent around the world, from wrist to wrist, without a fixed destination, at the whims of chance encounters. The voyage of these wristwatches, still ongoing, is tracked on a dedicated landing page and on the Moser Instagram account.
Results
20k page views and 988 posts with #PioneerTour in 7 countries 14 different cities.
Example 2: The Streamliner Collection
For 2020's debut launch of the first H. Moser & Cie. chronograph and The Streamliner Collection, a pivotal new collection in the brand's history, we created an effective digital circuit around a landing page, dedicated newsletters, exclusive content, and teaser campaigns to ensure maximum impact.
Results
87,842 visits to the landing page since December 2020, including 39k sessions originating on social networks (acquisition campaigns and organic publications) – comprising 45% of overall traffic.
For a 3-month acquisition campaign at a cost of 40k CHF: 12 million impressions, 170,000 clicks, a global conversion rate of 7%, more than 4.2 million views of the videos and more than 12k email addresses collected, including 200 qualified leads.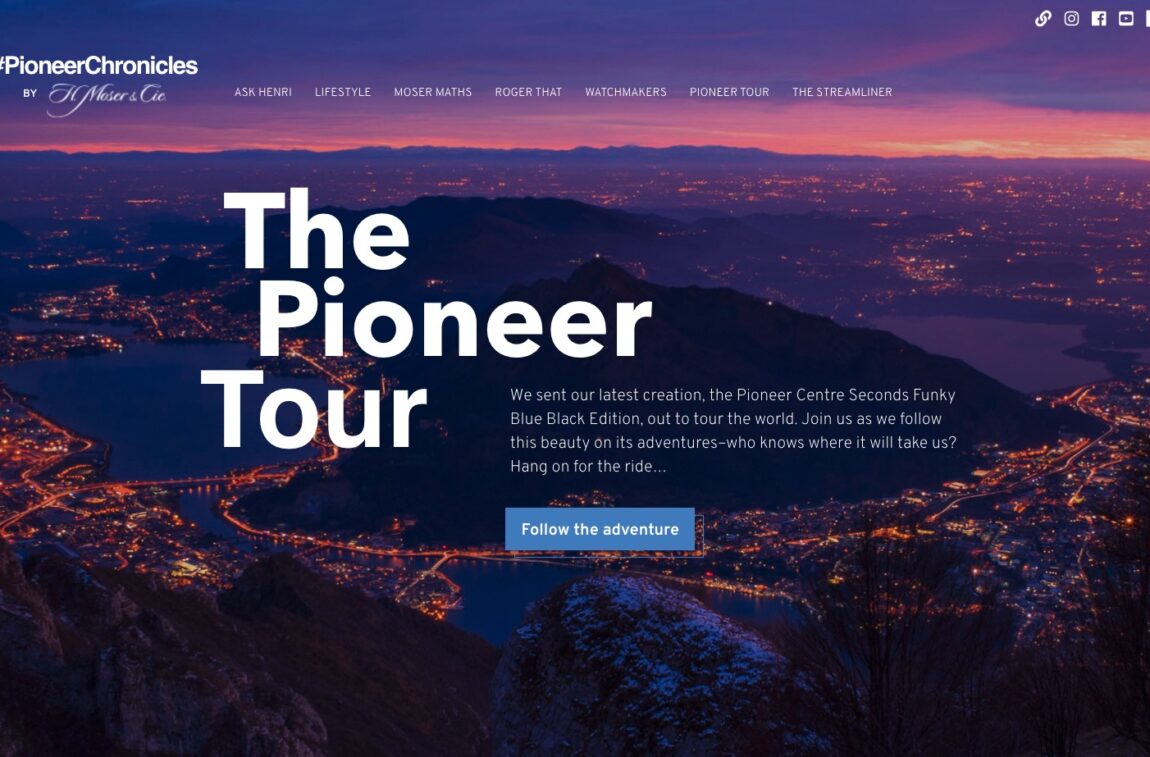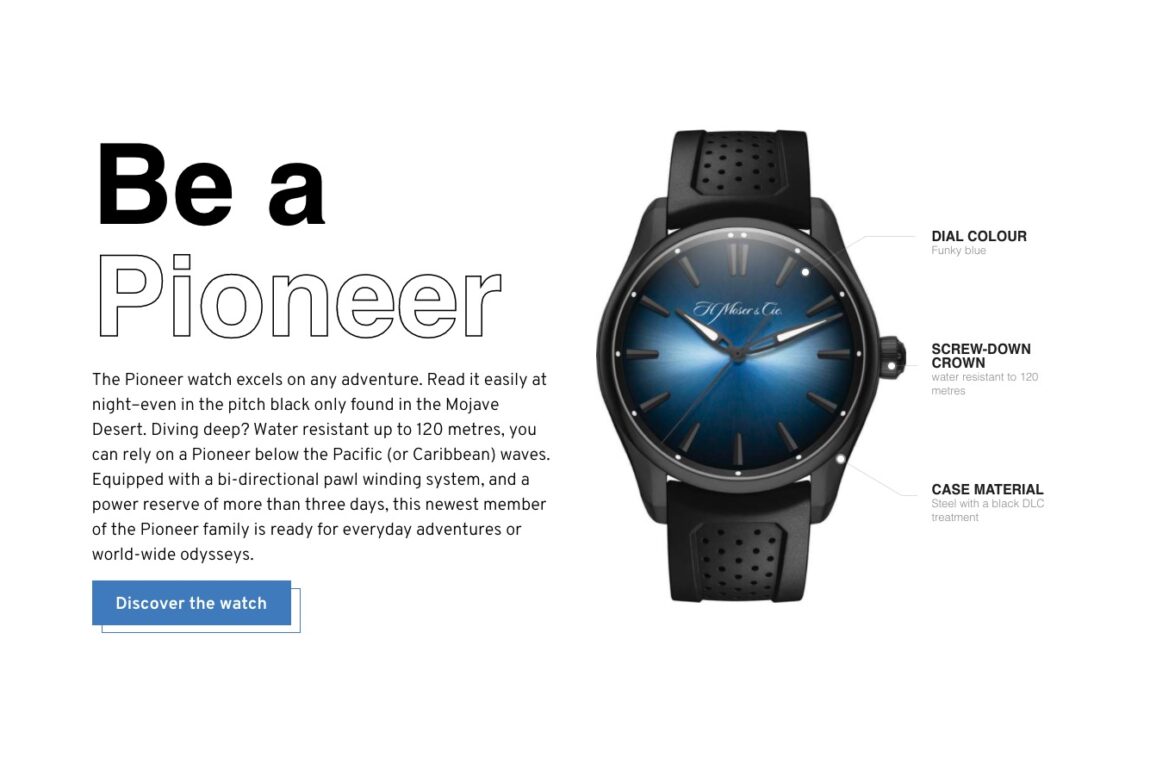 Solutions
In the face of the crisis, an E-shop created in record time
The watch sector was hit hard by the global health crisis. In Asian markets in particular, sellers of H. Moser & Cie. watches were closed for long, undetermined periods. We had to respond and find another way to make it possible for people to acquire a Moser.
Our solution: a new E-shop pushed live in record time. We were able to capitalise on the company's recent debut of an e-commerce website selling second-hand Moser watches, launched just a few weeks earlier to celebrate the 2020 leap year. The Certified Pre-Owned Watches site became "Shop Now," with a strategic placement of Moser's most attractive models. Our strategic choices turned out well.
A small bonus challenge: We had to harmonise the international press launch of 3 new Vantablack models (Vantablack is totally black, a fascinating color. As you can tell, we're already experts ?.) and to get the new site online in 15 days. By April 1st, no joke, the H. Moser & Cie. E-shop was live.
Along with the launch, we prepared a blog article, a dedicated newsletter, a traffic campaign, product-focused campaigns to push conversion, and we implemented the Insta-shopping feature on their Instagram account.
Results
382 leads acquired between March and April 2019.
Remarkable traffic on the site since its launch in Mars 2019: 30k users, 36k sessions, and about 80k page views.
The cherry on top? CosaVostra is now entrusted with the complete redesign of the corporate site, a major part of H. Moser & Cie.'s digital ecosystem. Launch expected for early fall 2020, stay tuned!