Or How Content Marketing Can Help You Find Purpose
First of all, a disclaimer: I am under no illusions that I'll be talking today about some front line mission. We don't save lives, collect bins, or fight crime. As a digital agency, we definitely don't belong in the key worker category. Some might even see us as prime examples of late capitalism's archetypal "bullshit jobbers".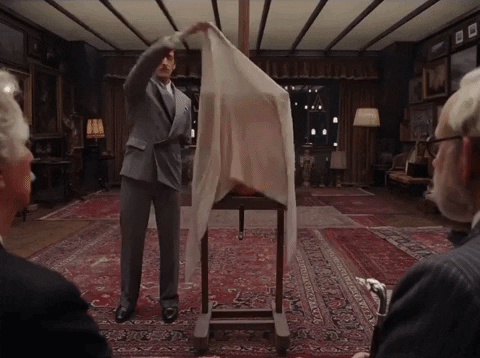 What do we do? We design digital strategies, develop interfaces, and craft content and acquisition plans. I look after that last part. We call it content marketing because it mainly consists of creating digital content for marketing purposes. That's the naked truth, and, put like that, it sounds neither sexy nor necessary. A world hit by a global pandemic where so many necessities are laid bare could probably spare social ads campaigns and sponsored articles, don't you think?
So why have we kept bothering to do it – to design instagram accounts, create digital magazines and podcasts series for brands – and why does it feel so good lately?
Is it the buzz, the thrill you get from juggling various topics? Dealing with fruit purées in the morning, wine at lunch and luxury watches in the afternoon? There's certainly a bit of that. We are not monogamous workers: we love the tension of many demanding relationships at once, the intellectual stimulation of novelty.
Is it our competitive instinct? Are we hooked to competing for our clients' interest? Showing them we get them better than anyone? Helping them perform? Sell more, reach more? Again, yes, that's part of the answer.

But it is missing the most fundamental reason. We do our jobs because we're convinced we can help brands understand and master their destiny. Big words perhaps, but we mean them. We want our clients to find out who they are, so they can work out where they're going.
We can't teach them how to improve the yield of their vines, or rewrite the design of their watches. Our mission is to help them find the raison d'être behind their products. We believe that this is the cornerstone to unearth. Once we have this origin story, we can then build other stories on top of it, turning their deepest reasons for doing what they do into emotional connections with their audience. To create these narratives – to give them depth and breadth, fun and thrill, to make them impactful – we've formed a great team.
A former magazine publisher, I share a love for media with my business partners. In the last 3 years, we've helped more than 40+ European media (Vanity Fair, Prisma, PinkNews, France Télévisions, Radio France, Konbini, etc.) on their innovation strategies. It gives my content team unparalleled insight into editorial innovation. If you add in their respective talents, it's a powerful mix : Rosa is an award-winning British novelist and creative director, Camille is a talented French-German poet with a knack for luxury and gastronomy, Rowan is an amazing English-American artist with a gift for creating compelling voices… Content is more than a job for each of them. They care, and have impeccably high standards.

The same is true for our growth team. At the helm, Lamine is an entrepreneur and gamer who's tested the acquisition campaigns he advocates on himself. Leading our social expertise, Flavien learned his trade at LeMonde.fr before spending 3 years handling the 100+ worldwide social accounts of the Red Cross from Australia.

Our team members all share an engrained practical experience we want to protect from any agency's theoretical routine which would lead us to sell standardized formulas. To prevent that from happening and keep us in check, we can count on CosaVostra's quartet of founders. They provide us with the best of playgrounds: investing or creating an average of 2 startups a year through Pareto, our startup studio – FYI here is the latest one we've been working on.
All of this to say, our experiences in the field are our most precious assets. We are storytellers and entrepreneurs, and right now is a great time for us to combine forces and help our clients stand out. Let me give you three examples when that happened:
Têtu is the leading LGBTQI+ magazine in the French-speaking world.
We've been working with this iconic media since it was relaunched by a new team of seasoned entrepreneurs and journalists in 2018. Our aim? Improve the relevancy of Têtu for all the LGBTI+ communities to increase its reach and impact.
While helping Têtu's team leverage their historic audience of mostly gay males right away through an A/B testing paywall strategy, we developed a social listening tool aimed at tapping into a new audience, broader, younger and more representative of all shades of the LGBTQI+ rainbow. Finally as that rainbow couldn't be deployed proudly on the streets last June for Pride, we organized and produced the first ever Pride event on Twitch. With 1.5 million connexions, it is to date the largest ever LGBTQI+ event organized on the streaming platform.
DBR stands for Domaines Barons de Rothschild (Lafite).
When we started working for DBR in 2017 dealing with their Instagram presence, the connoisseurs who knew what the acronym meant thought of it as a holding company bringing together very different wine estates.
We discovered there was much more to it. A spirit of companionship and knowledge-sharing ran through DBR's eight wine estates. We created a galaxy of 7 Instagram accounts to represent all their estates. At the heart of it, @thedomaines, an account leveraging DBR's legitimacy to create a proper wine media channel, aiming at educating and inspiring wine lovers around the globe.
Despite taking an uncompromising approach to our social endeavour – we don't do packshots, each of our posts must tell a story – with 19k fans on Instagram, @thedomaines is the fastest-growing account of all Bordeaux premium winemakers over the last year. And, for a brand account, it has gained an unparalleled audience among key opinion leaders in the wine world.
H. Moser & Cie. is a luxury watchmaking brand that plays by its own rules – and that's why we love it.
We helped H. Moser & Cie reshape its tone of voice, accepting the challenge of bringing irony and irreverence into the world of luxury. To that aim, we created Pioneer Chronicles, a blog for intelligent content with a casual tone, a sort of B-side to their main website, to make the brand stand out from the repetitive wrist shots, fancy cars and father/son portraits that dominate luxury watch marketing. That proved to be a successful approach as we've gathered a loyal community of more than 10k newsletter subscribers, who were a valuable asset when we launched the brand's e-shop within 3 weeks during Lockdown last Spring. Our e-shop success helped the brand ride the hard COVID wave when all its retailers were closed.

We also produced video content for H.Moser & Cie, achieving the rare feat of turning (great) CSR commitments into poetry – see our Moser Nature Watch film, gaining once again great attention for the watchmaker, at the last Geneva SIHH, the biggest watch fair of the year, during which H.Moser was the third most mentioned watch brand on social networks.
I could carry on – talk about our in-house podcasts which have gathered a loyal audience of 500 thousand listeners a month, or tease our soon to be released podcasts in collaboration with TAG Heuer and Google.
The bottom line is: at CosaVostra, we are working hard towards a sense of purpose.
Because our world needs bold brands daring to look within themselves. Brands that take stances they can feel accountable for and build upon. And we want to help them. So give us a call.